The AQUACLIP® Sealing System
---
It could be we wet ...
Heretofore you have been thinking of taking your mobile, smartphone, ebook reader, MP 3-player, organizer ,GPS or your expensive digital camera for leisure time: tot he beach, the lake, hiking, walking, camping, swimming, surfing or snorkeling. It could rain or a big wave could come …
---
100% waterproof
With our waterproof case brands Aquapac, Aryca and Dicapac you don't need to be afraid any longer: Our bags and cases are 100% waterproof. No rain, no wave, no splash and no hurricane can harm your electronic equipment. And of course, identity card, driving license, credit card, flight ticket, or car keys are protected. Even for medical devices such as insulin pumps or the radios of fire department or rescue teams Aquapacs are in use. There are no limits to us until five meters of water. We even carry waterproof flashlights of the brand Spotlight. And for those who always want to have everything in sight and hands free we offer our Spiderpodium of the brand Breffo: eight fully flexible "spider legs".
---
Sealed with a Twist
The Aquaclip® - worldwide patented by the way - is the key to all Aquapacs. An amazing little system which seals the case completely with simple twists.


The Aquaclip seals by twisting the levers

Aryca also works with a swivel bracket that closes the hard case hermetically. This system as well is patented worldwide.

For the Dicapacs the classic cylinder seal closure is used: device into, close a zip-lock, roll the cylinder seal three times and additionally secure with Velcro. Even these cases are waterproof and submersible down to ten meters.


---
Everything operable
And you don't have to dig out your expensive device anymore: when it rings, you want to skip an MP3, flip an e-book page or want to take a photo of the reef dwellers while snorkeling. Your devices can be operated from the outside through the clear film, whether on the Aquapac, Aryca or Dicapac. Our headphones are waterproof and even for the cable-through from device to device or headphones, our engineers have found a watertight solution.
---
Award Winning
The Aquaclip was awarded Millennium Product Status by the British Design Council. A government initiative to recognize "one of the most innovative products created in Britain for the new Millennium".

Aquapac has also been awarded with the Queen's Award for Enterprise: Innovation 2007 as recognition for achievement on continuous innovation and development. Click here for more details.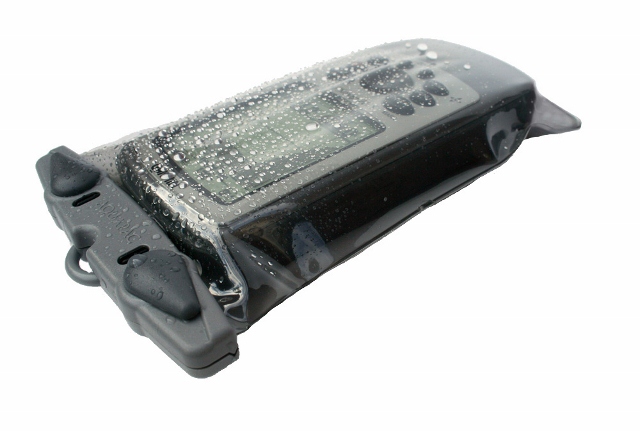 ---
Tested to Destruction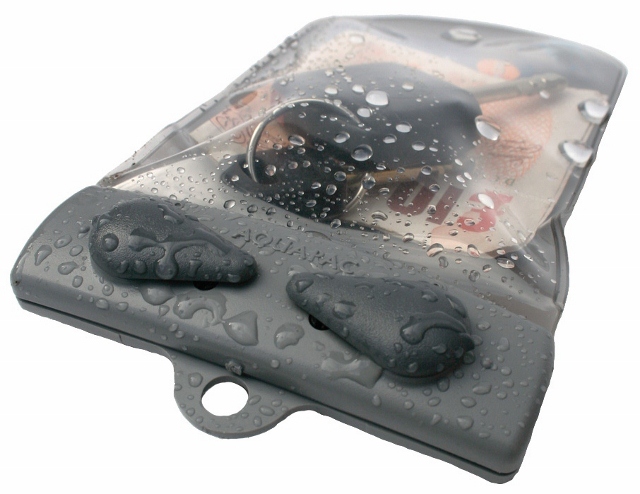 The Aquapac and Aryca locks are made entirely of light injection-moulded plastic. So it can't rust. The small cases meet the highest industry standard IP68 for dust and water resistance. The Aquaclip passed the two most demanding standards regarding water resistance - IP67 and IP68. Click here for further details Find out more .
In tests at Bath University the lever mechanism was tested for 10,000 cycles of opening and closing, with no loss of function.
---
User Friendly
When you open an Aquapac, Aryca or Dicapac everything stays in one piece. No loose screws. No need to fold the end of the case. Simple.

---
Fully Patented
The Aquaclip is fully-patented in the USA and most of Europe, and the subject of pending protection all over the world.

Patent Number:
| | |
| --- | --- |
| Europa | 0763337 |
| USA | 5797683 |
| Australien | 717691 |
| China | 96109311.0 |
User Guide PDF download.
---
Beware of Cheap Imitations!
Unfortunately from time to time there are cheap imitations of Aquapac, Aryca and Dicapac cases as well as Breffo-Spiderpodium copies circulating in some countries – many of them illegal because they infringe our patents. Please check carefully before buying a supposed "bargain" and later bemoan the loss of your precious electronics. Or a broken "spider leg". A tip: There should be at least the name "Aquapac" on the clamp or Breffo on the podium. If not, it cannot be original.