NEW! Waterproof First Aid Kit Bag
This is a waterproof drybag especially for your First Aid Kit. Brilliant for watersports, paddling, sailing and expedition use.
It's made from tough 500D vinyl to withstand all the knocks you experience on the trail.
It's really simple to seal – just roll the top down 3 times.
The bright red colour means you can easily spot your First Aid Kit in an emergency.
You can depend on Aquapac's manufacturing quality – we've been selling premium-quality waterproof bags for over 30 years.
Content not included in the delivery.
Details:
Three liters / 183 cu
Made of 500D Reinforced Vinyl
---
What stops the water getting in?

The TrailProof™ waterproof drybags uses a simple and well-proven roll-seal closure. You can roll it over as many times as you like but we reckon 3 times is all you need to give you a 100% waterproof seal.
---
What keeps the water out?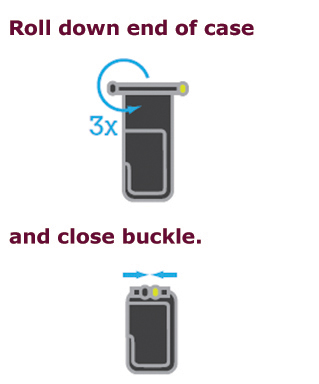 Roll up the upper end of the bag three times and close the buckle. Now, no rain or spray comes in.
---
Care Instructions
Our materials are strong but can still be punctured. Avoid sharp or abrasive objects and protect from impacts. Consider carrying Puncture Patches in your bag, to repair any damage.
After regular contact with chlorinated or salt water, or with sun creams, wash in soapy water and then rinse with fresh water. Do not use bleach, alcohol or proprietary cleaners.
The drybag in 3 liters
in signal red
with roll-up closure system
---
The shipping costs are independend and do not vary depending on the amount of artikles in your placed order:
Germany: 3,90 Euro
Europe incl. Switzerland: 6,90 Euro
Rest of the World: 16,90 Euro
---
How long will the shipping take?
Austria, Switzerland and BeNeLux: 2 to 4 labor days
Rest of Europe: 3 to 7 labor days
---
Buy with confidence:
This case was designed in the UK and made for us in China. We could have stuck at the standard one-year guarantee, but to demonstrate to you our total confidence in our product quality we give you a five-year global warranty. Click here to learn more.
---
How could we improve this page?
If we're missing any information about this item which would be helpful, or if you have found something that is confusing or in error, please Tell Us so we can improve our site.
You can store your personal first aid kit in this waterproof bag. When you are traveling, for example go on board, when rafting, camping or on expedition.
And when it rains or it gets rougher: No water will come into the bag. All dry when you need it.
Unsere Marken